SEE the NEW Tag in the menu on the left: NEW NAVETTE to La Grande Motte on Tuesday morning.
To reach the meeting place: Club Belambra La Grande Motte, Rue St Louis, 34280 La-Grande-Motte Telephone: +33(0)4 67 56 51 55
By car: GPS Latitude : 43.56417617040492 GPS Longitude : 4.101076126098633 see maps below
By plane: The Montpellier - Méditerranée airport is at 18 km Taxis are available at the airport (or call 04 67 56 75 54)
By train: The TGV train station is at 25 km. The Club Belambra can be reach by tram/bus:
Take the tram n°1 (blue with white swallows) in the direction of Odysseum (in front of the train station, on the left side of the road), stop at Place de France (it takes 20 mn from the train station to Place de France).
At Place de France take the bus line 106 in the direction of Aigues-Mortes, stop at Grand Bleu / Saint Louis. This bus ride takes 40 mn. There are departure from Place de France at 9:30, 11:30, 12:30, 14:30. See full bus schedules below.
Conference bus: We will organise a special conference bus which will leave the Montpellier train station on Tuesday 28th at 11:45, stop at the airport (12:10), reach Belambra at 12:35 on time for lunch. For the return, the bus will leave Belambra on Thursday 30th at 16:15, reach the airport at 16:40 and the train station at 17:10. On Friday 31st, we will organise the transportation Belambra Montpellier either with personnal cars or with a bus leaving Belambra at around 13:30 to reach the train station at 14:10.
Map of the Montpellier and the surroundings. La Grande Motte / Belambra is on the far right, and the airport in between La Grande Motte and Montpellier.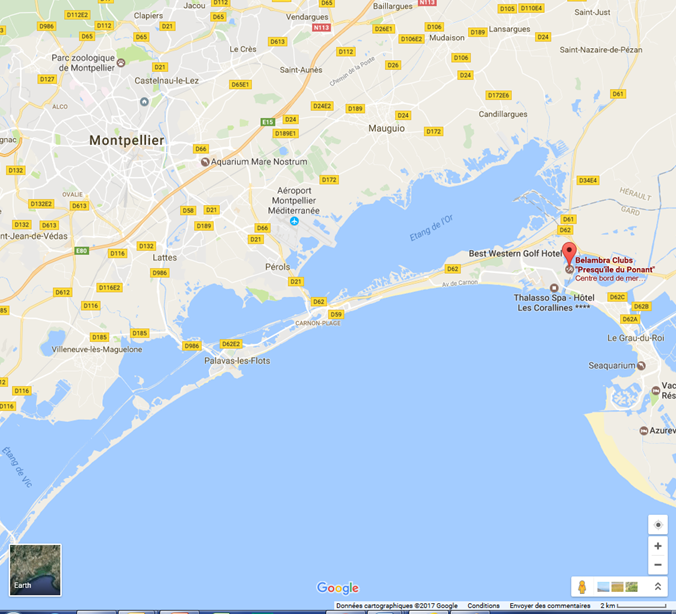 Map of la Grande Motte. The Club Belambra (on the right) occupies the whole Ponant peninsula (23 ha of pinewood)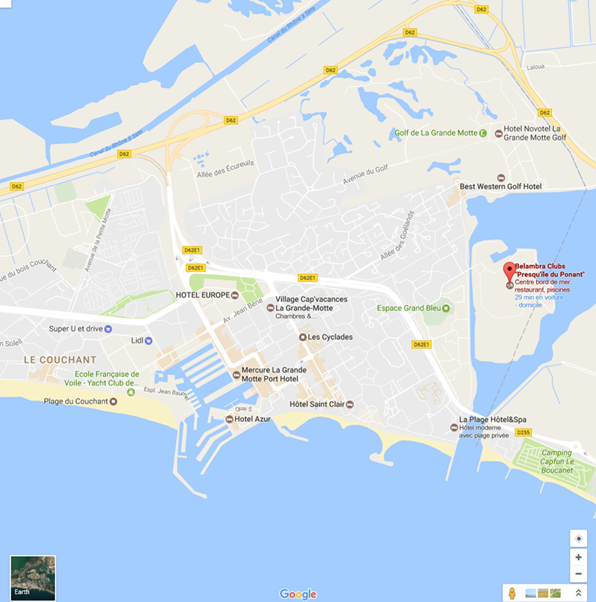 Schedule of the bus Montpellier La Grande Motte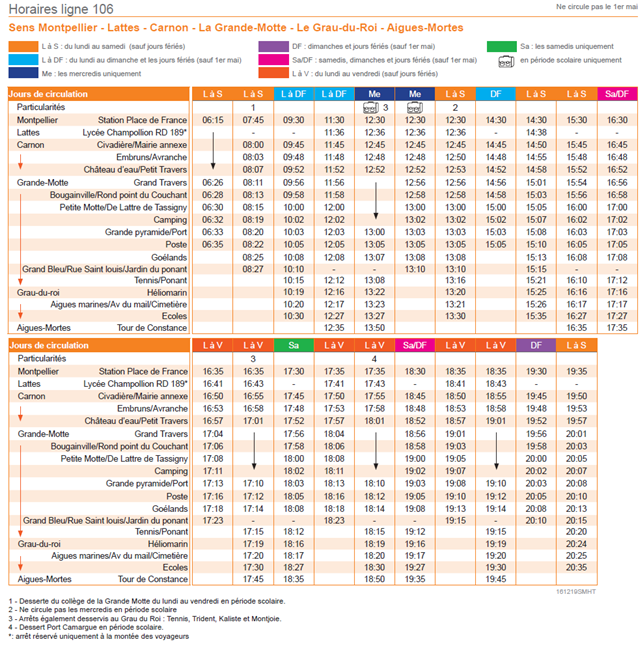 Schedule of the bus La Grande Motte Montpellier