Two visits will be organised on Tuesday March 28th morning and on Friday March 31st for the Montpellier European Ecotron and on Tuesday March 28th morning for the Puéchabon experimental site. If you are interested, please contact directly the organising person for each visit (see below).
NOTE THAT IF YOU ARE REACHING MONTPELLIER ON THE 27, IT IS BETTER TO SPEND THE NIGHT IN MONTPELLIER RATHER THAT TO GO TO LA GRANDE MOTTE AND HAVE THE TRIP LA GRANDE MOTTE MONTPELLIER ON THE 28 EARLY MORNING. For the visits of the 31 morning, it might also be good to spend the night of the 30th in Montpellier, but otherwise we will organise a transportation from La Grande Motte to Montpellier on the 31th early morning. If needed, we suggest a hotel in Montpellier. You will find the hotel information in the following pdf: directions to hotel
VISIT 1: The Montpellier European Ecotron
The Montpellier Ecotron is a laboratory of the Institute of Ecology and Environment (CNRS) open to national and international scientists' consortia in the fields of ecology, population and community biology and agronomy. It is dedicated to the study of ecosystems, organisms and biodiversity in the context of environmental changes.
Each of the 3 experimental platforms of the Ecotron allows a precise conditioning of the environment and on line measurements of states and activities (fluxes) of organisms and ecosystems at various scales. This facility bridges the gap between the complexity of in natura studies and the simplicity of laboratory experiments.
More info: http://www.ecotron.cnrs.fr/ Contact person: Alex Milcu: Alex.milcu@cnrs.fr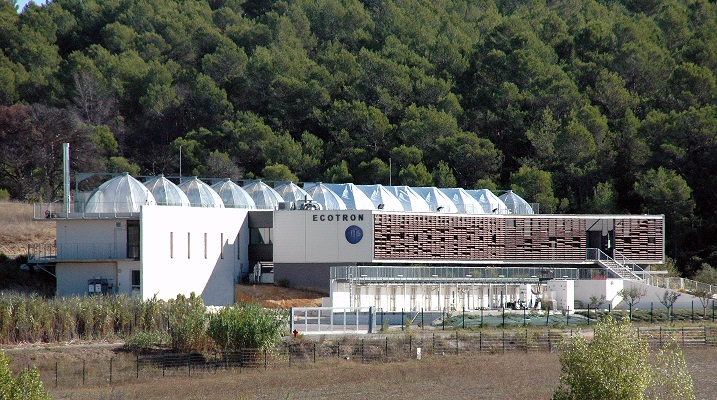 VISIT 2: Puéchabon experimental site.
The experimental site of Puéchabon is dedicated to studying Mediterranean forest ecosystems under climate change pressure. The evergreen oak coppice of the National forest of Puéchabon has been studied by researchers of the CEFE-CNRS (Montpellier) since 1984 with interests in forest dynamics, carbon and water balance, ecohydrology, impacts of increasing drought, biodiversity and forest management. The experimental is equipped with an eddy-covariance flux tower functioning since 1998 and now belongs to the ICOS European research infrastructure. Two rainfall manipulation experiments are also set-up on the site: one that removes passively 30% of the rainfall since 2003 and applies to integrate the AnaEE European research infrastructure, and one with a mobile roof that is used to exclude 100% of the rainfall in order to simulate extreme drought events. The experimental site belongs to AnaEE France and to the SOERE FORET and is located in the beautiful settings of the Hérault valley.
More info: http://puechabon.cefe.cnrs.fr/ Contact person: Jean-Marc Limousin Jean-marc.LIMOUSIN@cefe.cnrs.fr